A good understanding of tendons is a the reason why you don't need to pound on people in Sanchin.
It has been said to me by more than one senior Uechi practitioner that you can tell how long someone has been training Uechi by the focus in their tendons.
So when checking a student's iron shirt are you checking the focus of the tendons/muscles around the joints? The wrist, the lateral and medial sides of the elbows, the top of the calf, the top of the knee, the glutes, the floating rib area and for advanced students the neck, the base of the sternum, the kidney area . These are key points to feel for focus. Feel...not hit.
Just look at Gushi and other uechi-ka of that generation. Look at the photos below and see the development.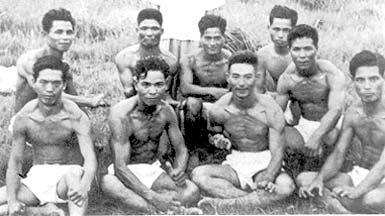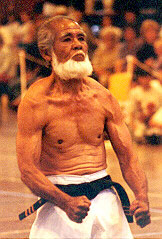 Most have said that they do not lift weights. They train sanchin and the jars. This is a very different look than what we think of as "strong" today.