That strange air threaded through the leaves and flowers of the English gardens all around us and it seemed to whisper soft and sad farewells as the leaves detached from the branches and floated slowly to the ground as big snow flakes colored of autumn.
The sound of the evening sea lapping the shore. Such a dreamy sound… abandoning oneself to the waves letting one blend with the rhythm of the world _ the energy of the earth_ of the sea_ of the sun_ of the moon and the stars_ allowing the voyage through life to be written by your eyes and soul.
Leaning on the garden benches outside of time _ among fallen leaves and clouds of tearful memories _ fears that life would alter significantly _ fears of aging and looking back on the past, and realizing that all friendships might be gone _
… and in my heart that sensation of receiving one of those kisses sweet and vibrant from my beloved city that warms the heart and wishful of never ending.
One of those kisses that I knew I would be yearning for my entire life in another country another world.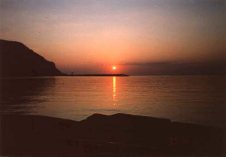 The last kiss.